Addy | 13 | Female
My name is Advika! You can call me Addy.

I currently reside in Mumbai, India.

I am a Survivor of Bullying and Suicide...Yes....I have been through a lot...

Since I was overly bullied, I now have a very bad rep at school and I don't have many friends...so the internet is my only source of friends!

I am also a Tomboy!

I don't know how you found me but you are very welcome here!

I currently study in class 9...

I live in India, I hope that's nothing to be ashamed of....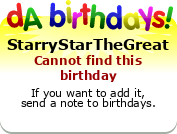 Friends Living In My Country (India)




Friends Around The World!